Hey, hey, hey, check it out, we have another fine blog to add to the American Flag League. Give a big hand to
Welcome aboard, Mateys!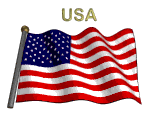 And check out this post by Adeline, where she dumpster dives at the Kos Kids, and this one by Hazel, asking "which pinup are you?" You know I love both things!
If you liked my post, feel free to subscribe to my rss feeds. Don't forget to Blogroll Pirate's Cove!