We have another fantastic member to add to the American Flag League, who I would like to say I'm sorry to for taking so long to add. Give it up to
Welcome aboard, Matey!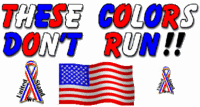 If you liked my post, feel free to subscribe to my rss feeds. Don't forget to Blogroll Pirate's Cove!